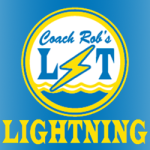 The Lightning Swim Team offers swimmers and parents an introduction to the sport of competitive swimming.  In this team environment the coach will often be out of the water instructing from the side of the pool.  At this level swimmers get a workout that offers fitness and team camaraderie in addition to skill development.
While stroke technique is the focus of the hour-long practice sessions, swimmers also develop strength and endurance.  Because of the increased distance demands, to join this group swimmers must be able to swim 50 yards freestyle, 50 yards backstroke, 25 yards breaststroke, and 25 yards butterfly.  We utilize both our 25-yard pool and when available, the competitive pool for team practices.  Stroke technique training and drills are used to teach legal strokes and increase speed.  We work on starts, turns, and finishes as well, making use of the diving blocks all in a fun environment.
The Pool School Lightning team competes in the Mid-South Swim Conference (MSSC), a group of similarly structured teams in the area.  These meets are an exciting and low stress introduction to competitive swimming.  The meet events have specific age-appropriate lengths, and both individual and group options.  Swimmers gain confidence seeing their individual swim times improve with practice and experience the thrill of swimming as a part of a relay team in a group effort.  While meet attendance is not required, it is beneficial and adds to the cohesiveness of the team.
The MSSC has two seasons.  Winter season runs from September through January and Summer runs from June through July, with a Championship following the 5 regular meets in each season.  League fees are minimal with the season fee being paid for upon enrollment for your first meet of that season.  Championship meet fees are separate from League fees.   Meets last from between 2 and a half to 3 hours, with the Championship meet lasting 4 or more.  Between seasons, The Lightning Team hosts intersquad meets, inviting our Level 8 swimmers to join in.
Due to the requirements for swim team, online and portal enrollment is not available.  Current Level 8 swimmers at The Pool School will be invited to join team when they achieve the skills necessary.  If you are not currently swimming at The Pool School, you can call us to arrange a swim assessment for team placement.
Lightning Swim Team practices from 7:00pm – 8:00pm Monday, Tuesday and Thursday.
Fees for a single practice day per week are $95 per month, based on four practices in a month.  You choose which day works for your schedule and enroll for that particular day per week.
Fees for the 3-days practice per week are $160 per month.  Your student can come for all the days.  There are no credits for missed classes with either enrollment option, and no makeups available for missed 3-day classes.  3-day students are already a part of all the classes available.
Swim Meet Information:  Please take a look at our Lighting Swim Team 411 information Lightning Swim Team 411 .  You can find more information on Lighting Swim Team meets, training and more in the calendar below.